---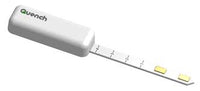 Quench Watering Alarm
Never forget to water your plants again!
Quench solves the two biggest problems when caring for plants: forgetting to water and watering too often.
Quench is able to detect exactly when your plant needs water and will notify you with a gentle tone. It's as easy as that.
There's no app, phone, or complicated setup required.  Simply insert Quench into the soil, and that's it.
Different plants have different watering needs so Quench was designed to work with them all.  By adjusting the depth of the probe, Quench can be used in water loving plants like ferns to dry loving plants like succulents.  Simply set the depth to suit your plant and let Quench tell you when it's time to water.
At night, instead of making a sound, Quench lights up red so it will never disturb your sleep.  Every Quench plays a unique tone so each of your plants has a unique voice.  Quench has been designed to maximize power efficiency for years of battery life. Quench plays two quick tones in succession to indicate low battery.   Use the scale to set the depth that best suits your plant.  Coated metal alloy contacts are both resistant to corrosion and capable of accurately detecting soil moisture
Click here for for more information