---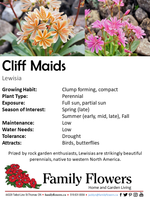 Cliff Maids - Lewisia cotyledon
LEWISIA Zone 4
Evergreen rosettes adorned with small, round-petaled blossoms in summer. Native to the alpine regions, it requires perfect drainage and full sun. An excellent plant in crevices of rock gardens and retaining walls
Lewisias are perfectly suited for a well-drained rock garden. This evergreen perennial grows from a rosette of fleshy foliage and produces spectacular funnel-shaped flowers that emerge from 10" stems.
The better drainage, the happier they are. Prefers light shade but can tolerate full sun. Water it regularly (but sparingly) to enjoy a long period of successive blooms. Perfect for a rock garden or in a pot.
Little Peach Soft peach flowers blended with pinks and orange. Heavy flower production on compact, upright stems. Pink-orange Green May-Sept. 6" high 10" spread
Rainbow Mix Mixture of many colours and forms from round flowers to semi-double and from white and yellow to pink, red-orange to blue-red. Assorted Green May-Sept. 6-9" high 10" spread. The flowers of 'Rainbow Mix' vary wildly in color and sometimes include semi-doubles. Expect to see blooms of purple, pink, yellow, orange, white, or any mix of these colors.
More Information: Perennial Catalogue