---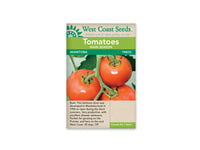 Tomato Seeds - Slicing
The tomato is a popular garden vegetable that is native to the Americas and easy to raise in a variety of Canadian climates. Tomatoes are a common ingredient in a variety of dishes, especially in Italian or Mexican cuisine, which makes it a top choice for many budding vegetable gardeners.
Tomatoes are best grown in locations that receive at least eight hours of direct sunlight on a daily basis. They prefer rich soil with lots of composted materials and it is important to support their vine growth with stakes or cages. Make sure that you remember to water regularly and you will soon be enjoying delicious, sun-ripened tomatoes straight from the vine.
Manitoba seeds produce vigorous determinate plants that thrive in cool climates with short seasons. An early producer with excellent yields, Manitoba Heirloom tomatoes were originally developed in the mid 1950's by the Morden Experimental Farm in Morden, MB to ripen during the short summer season. An excellent choice on the West Coast.
A prairie favourite, Manitoba tomato plants bear medium-large fruits 170 grams (6 oz.). The bright red fruits have smooth skin and firm, meaty flesh with a refreshing, tangy tomato taste. Well suited for slicing and preserving.
Manitoba tomato seed plants are resistant to, or tolerant of, the following tomato diseases: Fusarium Wilt and Verticillium Wilt. Determinate (bush) Matures in 65 days (Open-pollinated seeds)